It's an absolute pleasure to collaborate with and feature Maryam, the founder, and designer of the clothing brand Modestly Me.
Maryam and I have known each other for just over 2 years and she started her clothing brand, Modestly Me this year. Modestly Me is a brand for all woman. Many of us cannot afford the high-end luxurious clothes such as Chanel and Gucci but we still want good quality and glamorous clothes and that's where Maryam comes in.
Maryam designs good quality, glamorous and beautiful clothes that are affordable. You don't need to pay thousands in order to look amazing.
Maryam is passionate, goal driven and inspiring. It not easy creating something from scratch. It can be scary having a dream, going for it and trying your utmost to make it happen but Maryam is proof that you can achieve anything you put your mind to. Maryam is making her dream happen and this is just the beginning of great things to come for Modestly Me.
Maryam gifted me with a stunning Gillay that I am completely obsessed with. Its easy to style, goes with everything and is oh so comfortable. It's perfect for when you are rushing out the door and you just need something chic and simple to pull over your outfit.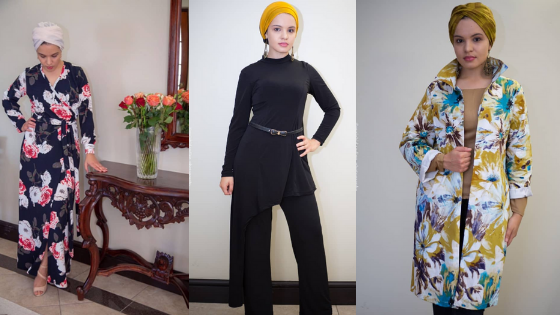 Why did you start your Brand Modestly me?
It has always been a dream of mine to be a fashion designer with my own clothing line. It started at the age of 5, my grandmother is a dressmaker and after school, she would look after me until my mother got back from work. I loved it because I made clothes for my dolls from her leftover fabrics. I also loved paging through her fashion magazines and when she had customer fittings I would feel the need to give my opinion to customers on their dresses. My mom also has exquisite taste and I would always be dressed in pretty dresses and clothes. I also interned at Marie Claire magazine in their fashion department and worked for an Exclusive fashion boutique Callaghan Collezioni that stocked the most exquisite designer labels such as Prada, Pucci & Chanel to name but a few. I knew this was my passion and my dream. I am a big believer in following your passion and never giving up on your dreams.
Where do you find your inspiration to make your clothes?
I am a creative at heart and inspired by beautiful things. I love high-end designer labels but cannot afford them. I wanted to create a label where women that loved luxury and feeling glamorous could buy my clothes that are of high quality and at an affordable price. I choose comfortable fabrics because a big part of style is feeling comfortable and I ensure all garments are made to my liking as I consider myself a perfectionist. I find my inspiration from fashion magazines, high-end designers and Instagram to name a few.
Why did you choose the name ''Modestly Me'' as the name for your brand?
I chose the name 'Modestly Me' because I am a Modest/Classic Dresser. I wanted to create a brand were modest dressers could feel stylish and on trend. I have always admired women who wear classic modest wear without showing too much skin. I find it classy, mysterious and powerful. There is nothing more confident and sexy than a woman who dresses for herself.
What are your future plans for your brand?
Right now I am focusing on building my clientele and getting the brand out there as much as possible.
What is your advice to someone wanting to start their own clothing brand?
Whatever it is that you are passionate about and you follow that and never give up I believe you will be successful. It is not always easy but my advice to anyone wanting to start a business or their own clothing line is; do your research, have a plan, have a vision and decide what your niche is. The timing will never be perfect so use what you have and just do it.
If you are truly passionate about something, all you need to do is set a goal, create a plan and work at it every day in order to make it happen. Nothing is impossible.
If you are interested in purchasing anything from Modestly Me. You can find all her designs on Instagram.
Instagram: @_ModestlyMe