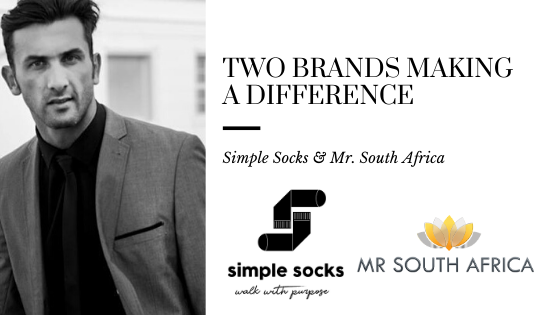 In a time of great uncertainty in South Africa, we need a brand that is about serving the community, educating and supporting families. This is what Simple Socks and Mr South Africa are doing and they have taken the world by storm. The authenticity, eagerness to serve those in need and make a difference of Simple Socks has made this brand stand out beyond others.
Simple Socks was created by Mike Green the Founder of Simple Socks in honour of a close friend that passed on. Mike wanted to honour his friend by creating a brand that serves its community, makes a difference and gives back and that's exactly what Simple Socks is doing and continues to do. It is endorsed by CANSA, The Cancer Association of South Africa and a portion of every sock sold goes towards research, educating and family support. Mike's dream for Simple Socks is for it to serve the nation. A brand that serves a purpose greater than himself and to be honest the world needs more of this. Being selfless is an incredible trait to have and it's something we should all embrace and strive for.
Simple Socks was launched in October 2019 into retail and during the time of Mr. South Africa this is a perfect collaboration in order to spread awareness of his brand that is all about serving his community, being authentic and serving a higher purpose. Mr South Africa has a vision of hope, equality, integrity, motivation and determination. They want game changes that have a dream and they aren't scared to chase that dream. They want those that want to change the lives of those around them and this is exactly what Mike the Founder of Simple Socks has done and worked towards. After losing and incredibly close friend he used that to drive his passion and vision for Simple Socks and it has already made a huge impact.
Mike believes in the brand, Mr South Africa as much as he believes in his own brand. He believes in its purpose, vision and goals because they are very much alike to his own vision and goals for Simple Socks. Mr South Africa has already given him a larger platform to spread awareness of his brand which enables him to give more support to his community and help his community more.
Simple Socks is a brand built and created to serve others. And if you serve others you find your purpose and you find happiness. It's a brand that understands that life can get tough, it can get busy and it can get stressful but if you strive to help others you find a greater sense of purpose and accomplishment. The answer is always in service to others.
We need to support brands making waves, making a difference and driving for the change that the world needs so desperately to see and that is Simple Socks in a nutshell. If you are eager to help Mike support, promote and inspire others, vote for him. He is now in the Top 80 of Mr South Africa and he needs all the votes of those that understand his brand and want to support him during his pursuit in helping others, making a change and building a brand that will not only serve his community but also serve the nation. We all need inspiration and hope and a sense of achievement in our lives. What better way than by promoting a brand such as this one. After all every big dream can end up changing the world. Every single person out there can achieve this. You must just simply believe in yourself and be willing to seize the opportunity just like Simple Socks and Mr. South Africa has done.
Mike is truly an inspiration to me as well as many other people. He is a worthy candidate to vote for and I believe that he will achieve anything in his life that he has set his sights on. He is a true visionary and with the kind of enthusiasm and determination he has we just know he will succeed with his brand Simple Socks and the changes it will be bringing about in this world.
Vote for Mike by texting MRSA66 to 40439.
Instagram: @simplesockssa
Facebook: @SimpleSocks
Personal Instagram: @mikegreen